In a previous post, we took a look at some brewing weapon descriptions. Now, it's time to do the same for ships!
Counting them now, we've got just a bit over 40 ships (including fighters, of which there are ~10) – it's hard to believe it's that many already, and there are still quite a few more to come. Here are a couple of my favorites:
Onslaught-class Battleship
Mass: 200 Mega tonnes
Propulsion: 245.5 Mega Newtons
FTL Drive: In-Hull
Crew Complement: 1800
A venerable design, the Onslaught-class battleships were first created to serve the Domain of Man eons ago, before the development of advanced modern strike weapons, fighter craft, energy weapons and shield systems. When first launched from orbital dock, they must have surely dwarfed any other ship in existence and intimidated entire systems. Some even say that they were built to combat non-humans in a long forgotten war, in which the Domain was triumphant. Much later, Domain engineers made modifications to the blueprints to include a shield system, upgrade the FTL drives and reduce the neccesary crew complement.
Even with other battleship blueprints available to the Sector, the Onslaught remains the easiest to manufacture due to the brutal simplicity of its systems. A ship designed without shields in mind, built to be able to withstand a heavy barrage of enemy fire and strike back while protecting its crew is much loved by its officers and men. And strike back it can. The Onslaught's unmatched ballistic potential can devastate entire fleets in minutes, its only drawback a logistical dependency on ammunition.
Building an Onslaught-class hull and preparing it for combat is thought to be economically impossible for all but the Hegemony. The Onslaught proudly serves as the backbone of the Hegemony Defense Fleet.

Atlas-class Superfreighter
Mass: Varies based on cargo, usually > 90 Mega tonnes
Propulsion: 123.5 Mega Newtons
FTL Drive: In-Hull
Crew Complement: 180
The Atlas-class ships are large space born cargo platforms fitted with an in-hull FTL drive actuator and a few defensive systems. Hundreds of standard Fret-3 containers can be safely latched on to the hull and carried with ease by this behemoth. Typically used to efficiently resupply entire outposts, the Atlas is ill suited to the small and fast trade runs that are the mainstay of commerce in the sector. Their slow speed and large size always tempt uninvited guests, ranging from curious gawkers come to see the hulking colossus, to scavenging pirates aiming to disable a container's magneto-gravitic fastener, to Cult madmen bent on destroying it all.
Nonetheless, the Hegemony makes wide use of them, especially to offload biomass from farming worlds on a seasonal basis. For the purpose, the Hegemony assembles large Atlas convoys; these are protected by military cruisers that ensure that the lifeline of Hegemony citizens is kept safe.
The captaincy of an Atlas is a rare punishment for the able, an uneven mixture of soul-numbing boredom and abject terror, being the results of normal trade runs and pirate attacks, respectively.
Dominator-class Cruiser
Mass: 110 Mega tonnes
Propulsion: 100 Mega Newtons
FTL Drive: In-Hull
Crew Complement: 850
Ponderous and menacing, the Dominator-class is one of the most widespread system defense cruisers in Hegemony space. Not the most technologically advanced hull, it relies on a plethora of ballistic hardpoints to accomplish its mission, which is more often than not defending stationary installations and vital system trade routes. A poor shield emitter which is difficult to manage and thus, rarely engaged, gives way to an almost impregnable interlocking armor belt system making the Dominator safe from most weapons. Even strike craft cannot overcome the hail of projectiles that can be launched to intercept their payloads, proving that tried and true military engineering is difficult to overcome by new ideas and technologies, especially when in the hands of tough determined crews and experienced officers.
Dependable, durable, and a constant presence in home space around civilized worlds and outposts, the Dominator is perhaps most hated and feared by pirates and law-breaking corporate agents.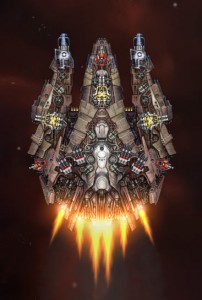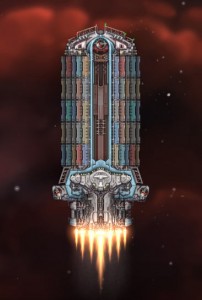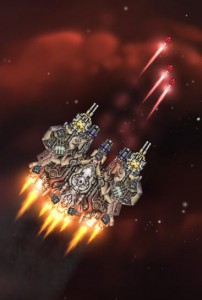 From left to right – the Onslaught, the Atlas, and the Dominator
Variants
For weapons, we'd talked about primary role each is supposed to fill – for example, a light machine gun is primarily a point defense weapon – though it can still be useful in many other situations. Ships are a lot more versatile and don't have specific roles, owing to the flexibility of their loadouts. The weapons fitted into the ship's mount points determine its ideal place in battle as much as the innate characteristics of the hull. A particular fitting of weapons and hull modifications to a given hull is called a variant.
For example, the Dominator will never be a nimble attack ship – but it can be a monster assault ship, or an equally dangerous close support vessel, depending on the guns and missiles it's fitted with. The one we're looking at in the screenshot is an assault variant, with torpedo tubes and heavy guns in the front, and a large amount of dual light machine guns for point-defense to increase survivability.
A given variant might specialize a ship to a combat role (such as fire support), or it might create a balanced, all-around vessel. Specialized variants are better in large fleets, when they can count on support from other ships, while all-around variants are more useful in smaller fleets. Our example Dominator is a highly-specialized assault loadout that is best at short-range, and being a slower ship, needs long-range support – something it can count on if it's part of a Hegemony patrol group.
A mercenary fitting a Dominator for lone-wolf missions would need to address its shortcomings instead of building on its strengths as the assault variant does. Some engine modifications and a healthy mix of the best support, assault, and point-defense weapons they could get their hands on would likely be in order.
Tags: atlas, dominator, hegemony, loadout, mount, onslaught, outfit, pixel art, spaceship, torpedo