There's more to space combat in Starfarer than nearly-obsolete front-line sluggers like the Onslaught. Meet the Astral class capital-ship carrier: a modern, refined platform for supporting squadrons of small fighters and bombers such as the Dagger torpedo-bomber you can see below. Escorting the Astral is a nimble Wolf class frigate.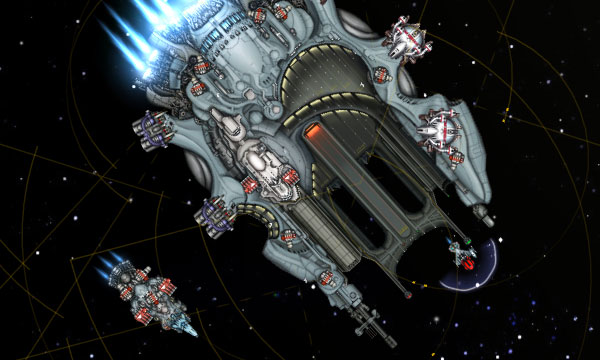 This Astral carrier has some top-of-the-line point defense systems on its starboard side while the port has some nasty repeating torpedo launchers. Once you get past the escorts and fighter-bomber cover, you'll have to be sure to choose your approach carefully — and that's before dealing with the full-coverage shield. Astral-class carriers should not be taken lightly.
What follows is a bit about how I went about designing the modern ship classes of Starfarer along with some concept sketches for the Astral and Wolf.