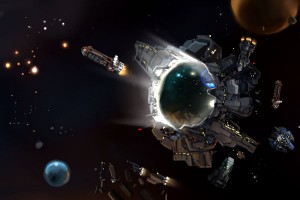 The Now is what the ancients would call "year 3126." We do not call it that anymore. It is pointless to cite large numbers that remind us how far we had come, and how far we have fallen. Since we do not even know where Old Earth is anymore, and cannot reach it – we use a new way of telling time, the sector cycle. In our sector of space, it is cycle 206.
Not much is known about the ancient past. What we know is what survivors recorded or told us. They described a vast galactic nation – the Domain of Man. Spanning hundreds of thousands of worlds in the Milky Way, ruled by the Ecumenical Benevolent Council, with its seat at Old Earth… It is told that one could travel the stars in the blink of an eye through gates constructed by the men of the Domain. Resources were nearly limitless, growth was not bound. Our sector was relatively new on the scene. Some worlds in it had only been settled for 20 or so cycles before the great calamity. The populations of the planets in our sector were still giddy with the initial excitement that every new venture brings. The sector was truly a heaven that we can now only dream of, hoping we go to a place like it when we die.
No one knows for sure what caused the end of this paradise. The records and stories only tell us bits and pieces. Exactly 206 cycles ago, all gates in our sector went dead at once. All communication links to the Domain were severed. Initially, there was no great disturbance in the daily lives of the colonists, it was assumed the gates would be reopened by the Domain, and communications reestablished. So they waited. But the gates were silent.