Now where were we? Oh, yes, Drawing A Starsector Ship Part 2 (read part 1 here).
I believe I was fretting about the back of the ship, those engine pods and such. Let's do another sketch: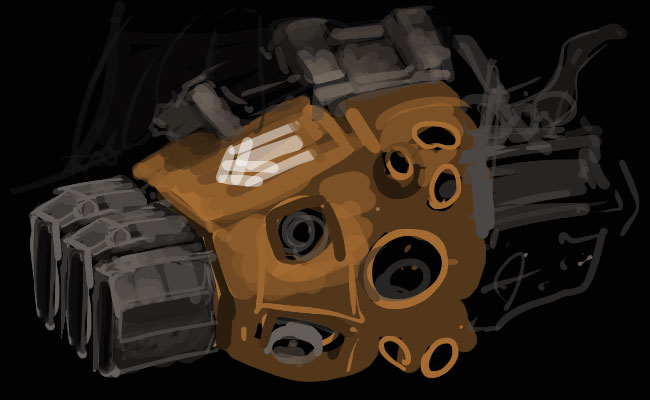 Hmm. While drawing this, I kept thinking "I'd rather be doing this experimentation on the sprite itself". That, and I rather like the idea of echelons of squarish angle-corned thrusters for the primary drive with "barnacled" pods for the maneuvering jets. Well, let's go back to the sprite and give these engines an overhaul, shall we?
(Also considering a comment from the forum thread noting that I've concerned myself a lot with asymmetry at the front of the sprite but little with asymmetry at the back. Interesting. Though I don't especially want to have asymmetric engine pods for obvious reasons unless the mass of the ship was wildly skewed to one side. Which might be neat, but … this is not the time for something as off-the-wall as a B-Wing.)
— To the pixels! Jumped in with doing some pixel-brush painting, blocking out a base area with a 100% brush then doing detail and texture with 1-2 pixel radius brush set to very low opacity, sampling bits of colour from around the sprite as needed.