So you've already heard the Good News? Blessed are you in the eyes of Ludd, already and truly. Do you count yourself among the Faithful, or has a sense of spiritual longing brought you to this shrine? Perhaps you've visited Beholder Station before? Have you contemplated the clouds of Kumari Aru, that sacred cradle of xenolife, which may be observed from the inner shrine? Many pilgrims speak of feeling a spark of the divine when contemplating the multitudes of Creation…
This is a sort-of a part 3 in the faction series but with more of a David-style focus, that is, on the writing, world-building, and implementation of a new set of missions, though I admit that the word "quest" in this case might have the right feel.
(I would carry on Alex's blog title series but I simply can't bring myself to write the word "uniquifying" more than this once. It's just, *shudder*, one of those words.)
ALL HE EVER GIVES US IS PAIN
All of which is to say: I'm going to be writing about some new content for Starsector which involve the various Luddic factions: the Church, the Knights, and a touch of the Path. In particular, this is a new mission which involves visiting a series of Luddic shrines, having some encounters along the way, and taking a stance on Luddism in general.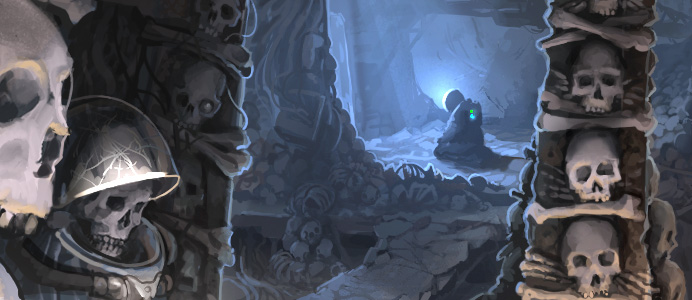 There will be spoilers herein, but worry not, Citizen! There's no SUPER ALABASTER REDACTED to bring the fury of COMSEC down upon us. That said, if you want everything to be a surprise, then you won't want to read this post. But if you'd like a peek into the design and creation of some of the introductory content for the Luddic factions, then read on. We'll start with some general background, design, and process discussion then actually show off new content as the last section. You'll get another warning before that starts up.
Let us begin in the beginning, with first principles that flow from the essential question: What the heck is Luddism?