Starfarer is still fresh out of the gate – but there are already several playable and very promising looking modding efforts under way.
I hope you give these a try, they're a lot of fun already. Installing a mod is easy – here is a quick guide.
Star Control II: The Ur-Quan Masters
One of several mods by forum member Trylobot. Thread & download link here.
The combat has a vastly different feel to vanilla Starfarer, with some striking similarities to Star Control in how it plays out. It's till in the early stages, but there are already three ships – the Earthling Cruiser, the Ur-Quan Dreadnought, and the Orz Nemesis.
I'm absolutely loving how this mod is coming together. Being a huge SC2 fan I'm a bit biased, though – so here are a few screenshots so you can see for yourself:
Junk Pirates
A mod by mendonca, thread and download link here.  Features an entirely new faction with 6 new ships and fighters, showcased in a series of 4 missions.
My personal favorite is the Dugong-class destroyer, pictured below. It's got an amazing amount of firepower concentrated in a broadside, and is fast enough to run circles around anything it can't flat-out outgun.
More mods in the rest of the post…
The Nomads
Another mod by Trylobot, thread & download here. This one is very small – with a single test mission and a couple of new ships – and some weapons – with what looks to be a desert-inspired visual style. The new ships play very smoothly and I'm looking forward to seeing more.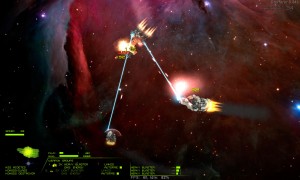 Gratuitous Space Pirates
Yet another mod by Trylobot (he is quite productive!), featuring a new pirate faction. If you think it looks familiar, it's probably because it's made up of re-tooled GSB sprites (used with Cliff's permission, of course). Features around about 10 different ships and fighters in 4 missions of varying difficulty.
This concludes the mod roundup. You can keep tabs on our growing modding community in the forum. This thread in particular is a good place to check out new ships as they're made.
Tags: fighter, gsb, junk pirates, media, modding, nomads, pirates, spaceship, star control