I just added two new ships to the game, and thought I'd talk about the process that's involved in determining ship stats, the types of weapon slots that they have, and the role they fill in the game. First of all, there are already lots of ships – around thirty if you don't count fighters, and about a dozen more if you do. If you're like me, that might set off some alarms in your head – why are there so many? Is it just variety for the sake of variety, or is it in fact meaningful? That's what I always wonder about when I see a game tout "500 this" and "200 something-or-other" in their feature list.
Not every ship needs to bring something unique or interesting to the table – if nothing is "average", then it's hard for anything to be special. On the other hand, if two ships fill the same role in the same way, that's a bad sign – it's a wasted art asset, and complexity added to the game that doesn't pull its weight by giving meaningful choices to the player. Still, having more ships is good if they pull their weight – it gives the player more choices and avenues for advancement, never mind more varied opponents. Having enough ships to give factions a stronger identity is important, too.
So, what are the factors that differentiate ship designs?
First of all, there are 5 size classes – fighter, frigate, destroyer, cruiser, and capital ship. We've also established three tech levels for ship designs – low tech, midline, and high tech. Low tech ships have high armor and a mix of ballistic and missile weapons. Midline ships have a mix of all types of weaponry, and average armor and shields. High tech ships rely on energy weapons and missiles, and typically have lower armor and excellent shields, in addition to improved mobility. Ships can also have launch bays for fighters – with some ships being dedicated carriers.
Just those factors combine to create a lot of combinations – a low tech cruiser? A high tech carrier? You can also easily make a ship distinct by giving it something special – such as, say, a weapon slot that's too large to be normally found on ships of that size, or exceptional movement speed. Where the weapon slots are located and what arcs they cover is key to how a ship plays out – for example, having an important weapon battery point slightly to starboard will affect the best way to pilot a ship and will be a constant tactical consideration.
To top it off, not all ships are dedicated combat vessels – they have stats such as cargo, fuel, and crew capacity. Down the line, I'd also like to add active ship systems (such as afterburners, a combat teleport, or an ECM device). Between all these, keeping ship designs varied is easy.
Up til now, we haven't had any particularly large high-tech ships in the game that could also put out a lot of firepower. But that's about to change – allow me to introduce the Paragon-class battleship and the Odyssey-class battlecruiser. These two are anything but average.

The Paragon
The Paragon is essentially a mobile battlestation. Its shields are the best in the game, and are backed up by a vast flux capacity. Its armor and hull aren't quite that of the Onslaught (a low tech battleship), but its overall survivability is better. On the other hand, because it sports a large number of energy weapons – which generate a lot of flux – there's a greater need to balance weapon and shield use. The mostly-energy arsenal also means the Paragon isn't dependent on munitions being available, reducing its maintenance costs and giving it greater longevity in battle.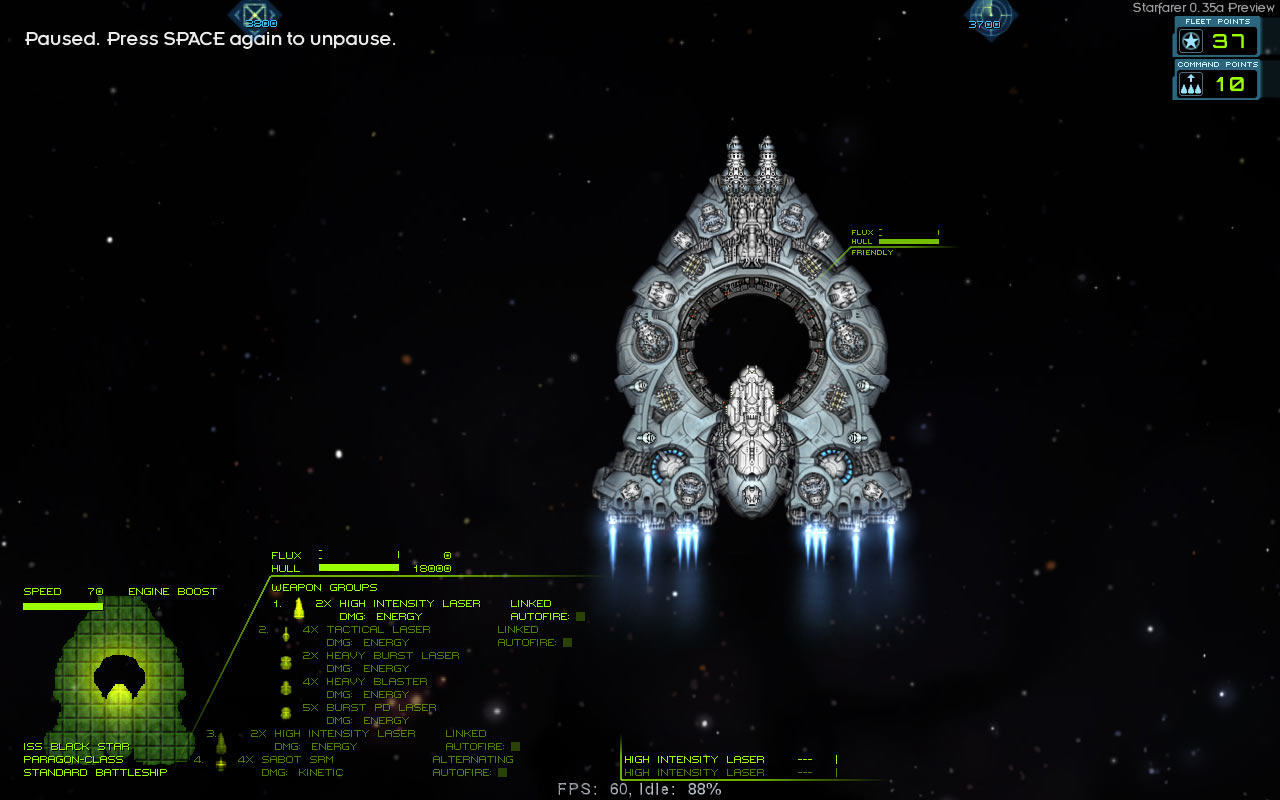 Unfortunately, due to its focus on combat, the Paragon doesn't perform well in other areas. It requires a lot of crew to run and has a low cargo capacity. The amount of fuel it consumes during hyperspace travel is staggering, and it has low fuel reserves. Using it effectively requires support ships – tankers, transports, and freighters, but even then, it's not the kind of ship you'd want to have in a trading or exploration fleet. But when it comes to battle, it has no equal both in terms of survivability and sustained firepower.
The Odyssey
In contrast to the Paragon, the Odyssey is a nimble ship for its size and sports impressive firepower. In typical battlecruiser fashion, its hull, armor, and shields are sacrificed as a result – it's outmatched by some heavy cruisers on those counts. Uncharacteristically for a ship with so much armament, it also has a fighter launch bay.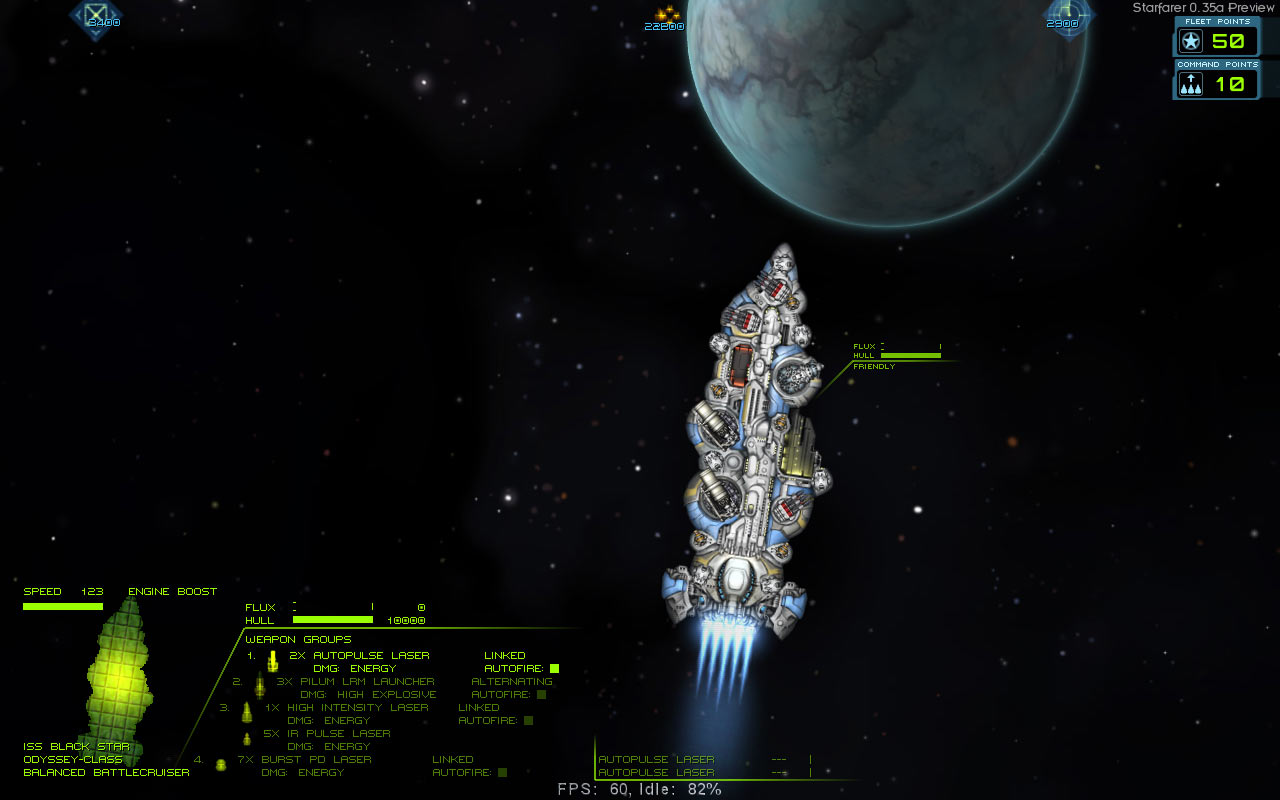 Unlike the Paragon, the Odyssey is well-equipped for long-range exploration. It can carry a respectable amount of cargo, has lots of hangar capacity for fighters to tag along, and consumes a reasonable amount of fuel for a capital ship. It requires a bit more care in battle, but overall makes an excellent flagship, especially for a player focused on skills that improve the performance of their ship.
… and now, if you'll excuse me, I'm going to set up a large battle with these ships. Strictly for playtesting purposes! Nothing to see here, move along.
Tags: battlecruiser, battleship, flagship, odyssey, paragon, ship design
This entry was posted on Thursday, December 8th, 2011 at 8:29 pm and is filed under
Development
,
Media
. You can follow any responses to this entry through the
RSS 2.0
feed. Both comments and pings are currently closed.