With Alex's dev computer in dry dock due to a flux overload*, he asked me to jump in and show off a bit of what I've been drawing for Starsector. Spoiler alert: It's spaceships. But not as you know them.
* He actually got it sorted out pretty quick. No need to panic. I just have to express everything in terms of Starsector, eg. my first tech advice was "Transfer command!". We have fun!
So yes: I've been digitally painting some large scale illustrations for use in Starsector, both as promo art and cropped down to little scenes to show for game event choices and so on.
Above: the final painting of the "Hound Hangar" faded into the first sketch.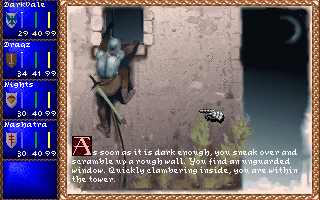 Old games like Darklands (to the right, thanks Mobygames) and King of Dragon Pass used illustrations to show game events that were basically described in writing but not detailed gameplay simulations. I mean, say your game has a detailed tactical combat model: should you also put in a really boring wall-climbing minigame? (Answer: no. Though it's funny how huge-budget modern games manage to cram everything possible in, to what one might describe as varying degrees of verisimilitude and/or success.)
Same idea here. Starsector has one artist — yours truly — so, for example, making a whole game mode where you're a character walking around a space station really doesn't make sense. This set of interactions can be expressed through some buy/sell type UI and illustrated event dialogs for if something special comes up. Makes sense, right? Let's get back to the art itself.
When drawing these things I enjoy creating a new layer each time I sit down for a drawing session or make a major change. This lets me show the progression of the illustration over time. And now I shall show you, dear reader, this very process!
Above: very first sketch. So what are we doing here … how about some kind of hangar, that'd be cool.  Dramatic perspective, naturally. Choosing colour palette, rusty oranges and browns for that 'completely not antiseptic and perfectly maintained' universe of Starsector. Think Millenium Falcon in Mos Eisley. Serenity in … well, wherever Serenity went. But more rust, even if in space there's no oxygen to actually oxidize what probably isn't even iron armour. That's not the point!
Moving on.
Here I'm filling in major areas of colour and lighting. Off to the left, cargo storage: still a warm colour, but something off from the orange going on in the main hangar. Above, florescent-green lights in the hab-interiors of the ship giving both an unnatural yet somehow life-filled glow. In the ship at dock, some bright cold blue lights to offset it from the rest of the image.
Rendering and details are filling in here. You can see I'm slowly botching the perspective on the ship. At some point around here I posted an in-progress image on twitter. Naturally, this image was dissected in far too much detail in the forums.
I admit, it's slightly troubling to have my work picked apart in excruciating detail as if it were some canonical guide to the game universe and the exact scale of ships vs. people. My answer: it absolutely isn't and doesn't really matter! I'm just drawing stuff.  (But do pardon my defensiveness; I appreciate that the motives at work here are an enthusiasm for the game and a desire to explore the universe of Starsector more closely. This is actually awesome.)
But that said, it still bugged me enough that the scale was out of whack that I changed the size of ship by extending the drawing over to the right. There! It's more like a proper Hound now. Kinda. Perspective is utterly bollocksed now. And even for that, there's more detail going in all over.
Apparently I love that shade of orange in the background of the main hangar; I used a similar effect in my art for the Dungeons of  Dredmor title painting. I even had a tube of paint in that colour in art school that I abused thoroughly. I just realized that I keep coming back to it. Neat eh?
Alright, let's fix this perspective. There: aligning things to be one-point rather than two-point.
I actually had an overlay layer of perspective lines drawn to use as a rough guide but as with all painting I tend to play fast and loose with the rules. I'm a rebel like that, you see. Or, more honestly, I can't be terribly bothered to make the drawing a perfect CAD render because that'd take forever. I think it's more important to draw the feeling of an image, whatever I'm trying to evoke, rather than holding with unnecessary fidelity to (anyway) made-up schematics. Admittedly, if I were doing this properly as many digital painters do I ought to block out the rough forms as 3d models then paint overtop a rendering. Maybe someday.
Yet more detail throughout, especially darkened the roof, added that girder lattice to emphasize the perspective, and added some spotlights to set it off.
More rendering and cleanup, especially perspective on the left. Made the big yellow supply crate into two smaller crates that might have a chance of actually fitting into the ship's cargo bay. Scale, see – I'm paying some attention to it!
And so on.
At this point, Stian contacted me about some kind of Thing being cooked up which would be well served by having the image be at a higher resolution. So I said, sure, let's rock and roll. Image -> resize.
Here I've up-sized the image significantly and filled in the extra space at the top and bottom with Photoshop's "content-aware fill" which guesses what the selected area should be filled with based on what similar areas elsewhere in the image are adjacent too. It does a serviceable job at the very, very broad strokes and I've been enjoying using the content-aware fill as a starting place for when this sort of thing comes up.
And here we are. Lots of clean-up done for the up-sizing as well as tweaking of various details. It is still, you may note, not at all perfectly rendered down to each pixel. Lots of heavy brushwork. This is intentional because 1. it'd take forever to draw this pixel-perfect or photorealistically (and there's so much more to do) and 2. this illustration will generally be shown at much lower resolution when used in game. And probably even with portions cropped for different situations in-game.
I'm looking forward to doing more of these, maybe not all quite so large. I've always loved science fiction illustration since I can remember and now I get to draw a whole bunch of them! What more could I ask for?
Just for fun, I'll post a crop from another one I'm working on: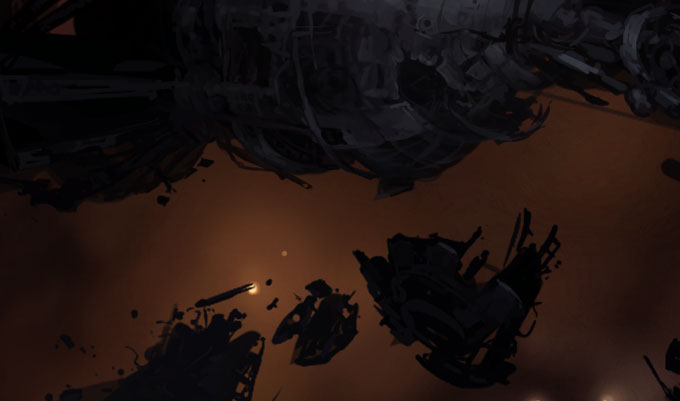 Tags: illustration, photoshop, spaceship