One of the main features in the next release is going to be the ability to customize your fleet before you embark on a mission, so I thought I'd talk a bit about how that works.
The are two main aspects of ships you can customize – one is the weapon loadout, and the other is hull modifications, or hull mods. Each ship has a number of weapon mounts (slots), each of which has a type and a size. For example, a small ship might have 4 small energy slots and 2 medium ballistic ones. When you fit a weapon in a hull, the size and type have to match the slot – for example, an Antimatter Blaster is a small energy weapon, and can be fitted into small energy slot. You can also put a weapon into a slot that's one size larger – so, you could put the aforementioned blaster into a medium energy slot.
Hull mods provide passive bonuses such as increased armor and top speed, as well as more exotic ship and weapon attributes.
So, what's to stop you from just cramming a hull full of the the best weapons and mods? Ultimately, that's what you want to do, but both weapons and hull mods require ordnance points to install on a ship. Each ship has a maximum number of points it can support, so deciding just how to spend those on weapons and mods is the challenge in creating a good ship design (also known as a variant).
You can also spend ordnance points on installing additional flux vents (to increase the flux dissipation rate) and flux capacitors (to increase the maximum flux limit). Flux is generated by using shields and firing weapons, so a good balance of firepower and flux efficiency is critical for a successful design. Each extra vent or capacitor costs 1 point each, ensuring that any leftover points can be spent on something useful.
Here are a few screenshots of the refit screen – it's still a work in progress (in particular, the UI to assign hull mods is missing, as are several other UI components) but it should give you an idea of how it's shaping up.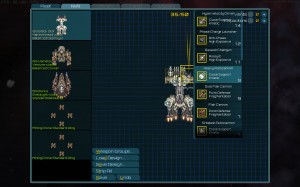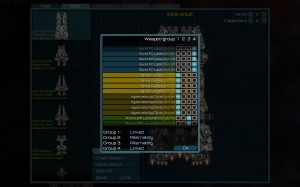 Work-in-progress shots of the refit interface
Tags: antimatter, blaster, development, refit, ship, ship design, ship loadout, variant, weapon mount, weapon slot
This entry was posted on Sunday, September 4th, 2011 at 1:20 pm and is filed under
Development
. You can follow any responses to this entry through the
RSS 2.0
feed. Both comments and pings are currently closed.