One of the goals for the next version of is to improve the way you give orders to your fleet. It's a delicate balance – the orders you give should shape the battle, but spending too much time looking at the map and giving orders detracts from the experience of flying your flagship.
The original (and as of the latest release, 0.34a, current) version of the fleet control interface was very RTS-like. At first glance, it seemed like a good idea – why reinvent the wheel, if there's an already widely-known way to control multiple units? Unfortunately, as the combat gameplay took shape, it became more and more clear that the RTS model is a bad fit for Starfarer.
Why, you ask? There are two main reasons.
One, it set the wrong expectations for the level of control you have over your ships. RTS units are typically instantly obedient drones. Starfarer ships, on the other hand, have to be smarter than that to make interesting opponents in direct combat. The trouble is, it's hard to make them obey orders to the degree that's suggested by the RTS control scheme. Either they obey immediately and possibly get killed for their efforts, or they take their time and carry out orders when the tactical situation allows – and appear to be ignoring your commands in the meanwhile.
Two, it allows – and sometimes requires – too much micromanagement. You can keep track of every fighter wing and order it to go to a carrier for repairs any time it takes too much damage (they do so on their own, but sometimes an earlier, explicit order ensures a wing will survive). You can manage the composition of groups in detail – possibly getting a little more efficiency in the process. You have to manage the groups to begin with, when you deploy the fleet. To play optimally, you have to keep going to the map to evaluate the situation and give orders here and there several times a minute.
You can do well just giving a few general orders, but knowing that optimal play requires more micro than enjoyable is hardly ideal.
So what's the solution? First, let's rephrase the problem – in the RTS control scheme, you tell your units how to do things. Go here, shoot this, group with these other units. The units have no concept of your larger goals. Instead, why not tell your ships what to do, and let them figure out the details? If you were the commander of a fleet, that's exactly what you'd be doing – delegating, and reserving your attention for the things that matter.
Now, let's dive into the gory details.
The core new concept is an "assignment" – a goal you've set for your fleet. Some examples are:
Capture a specific objective
Rally a carrier group at a given location
Perform a strike (say, a bombing/torpedo run) against an enemy ship
Escort a specific friendly ship
There are quite a few more of these – 12, all told – and it's easy to add more as we add to the gameplay.
You can only have a few assignments active at a time – the base limit is 3 for now, and will go up based on your Command skill. Comm Relays are more useful now, too – they let you have an extra active assignment.
So, at the start of a battle, you pick which ships to deploy  – no more battlegroups – just select the ships you want on the field. Then you create a few assignments – for example, "capture" two nearby objectives, and "assault" one in deep enemy territory. Once the assignments finish transmitting – takes about 10 seconds – your ships will decide which gets tasked with what. In our example, a few faster ships will capture nearby objectives, while the bulk of the fleet will join in the assault. As assignments are fulfilled – i.e., the objectives are captured – ships will be tasked with other active assignments – in our case, the faster ships sent off to do the capturing will join the assault when they are done.
You might be sceptical – what if the ships don't organize themselves just the way you want? It seems inevitable. The answer here is twofold – one, that's the breaks – you're the commander, and sometimes your subordinates let you down, or simply do things their way. On the plus side, the way assignments are made is predictable – so after you get a feel for it, there won't be many surprises.
The second part of the answer is what we're calling "direct orders". As the commander of the fleet, you can't oversee every little detail – but you can personally handle the crucial ones. Direct orders let you:
Assign a specific ship to a given task
Order a ship to engage the enemy at will and not be given any assignments
Order a ship to retreat
Order a fighter wing to land on a carrier for repairs
Rescind any direct orders that were given
Order the use of certain important ship systems (such as a self-destruct) … just as soon as those are implemented
The number of direct orders you can give is limited per battle – starting at 5, with a bonus from the Command skill and Comm Relays – so you have to make them count. It's not something you can use for extensive micro, but you can still tweak the details that are truly important.
I debated about adding a screenshot of the new UI in action – there are still a lot of placeholder graphics – but in the end decided to include one. I think seeing it will really drive home how the new system works.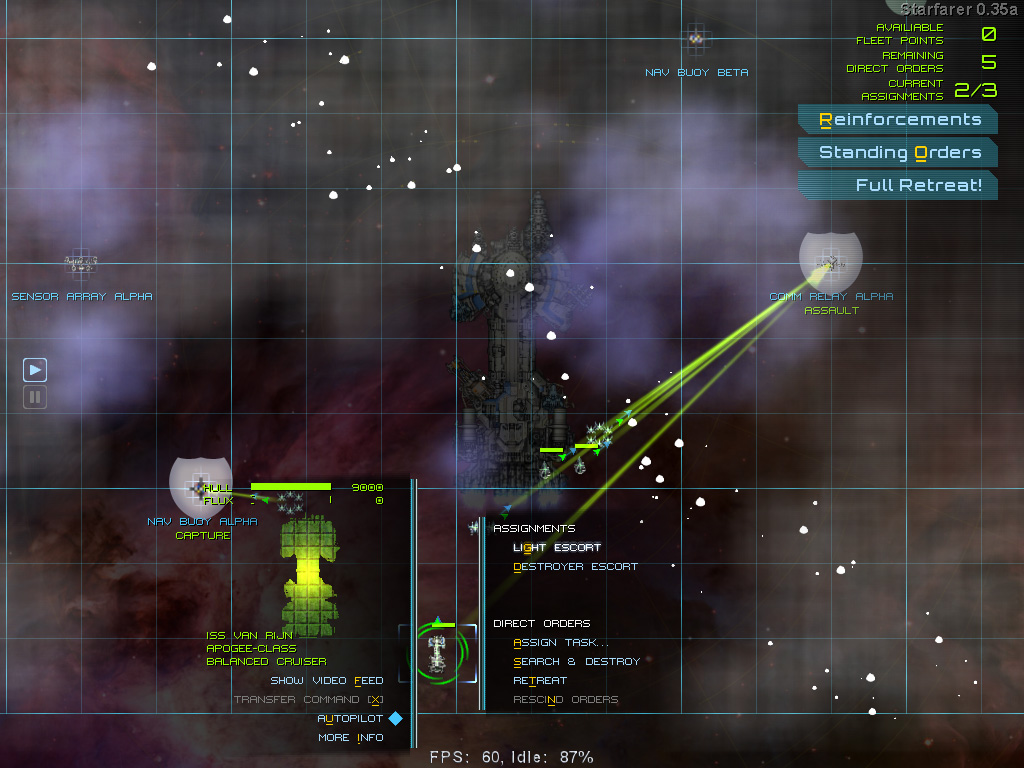 You can see that there are assignments to capture the Nav Buoy and assault the Comm Relay – the arrows from the ships indicate which ones were give the assignments.  The lovely grey shield icons behind the objectives are meant to indicate the type of assignment, and will be replaced by some actual graphics soon.
The ISS Van Rijn is selected, and is about to be assigned a light escort. A context menu like this one shows up when you select an objective, too. You can also create "waypoints" anywhere on the map by right-clicking, and attach assignments to them – for example, if you want a fire support group set up in a particular spot, you'd use a waypoint to do it.
There are a couple of items in that screenshot that weren't mentioned in the above.
The "Full Retreat!" button lets you order, well, a full retreat. This is necessary because ordering individual ships to retreat uses direct orders, which you probably won't have enough of. "Standing Orders" lets you permit/forbid the use of strike and fire support weapons. In the future, it will also include the use of some ship systems – not important enough to warrant direct orders for their use, but not something you want ships to use completely at will.
Questions? Comments? Thoughts? I'd love to hear from you!
Tags: assault, assignments, capture, controls, direct orders, micromanagement, rally, rts
This entry was posted on Wednesday, July 27th, 2011 at 11:51 am and is filed under
Development
. You can follow any responses to this entry through the
RSS 2.0
feed. Both comments and pings are currently closed.