The previous post was an introduction to ship systems. In this one, I'd like to talk about the thought process and decision making that went into the design. There are many ways to do things, and I'm not claiming that the way I ended up going about it is the best. Nonetheless, looking at the dev build so far – the results seem promising, and I hope you'll find the process interesting. Besides, it'll help me to put this down in writing, and then go through the ship systems again, with hopefully greater clarity of thought – so, you're stuck with this being the subject of the blog entry. Might as well grab a beverage of choice and settle down for a long read.
A brief reminder: a ship system is an active ability, something a ship can do – teleport, engage afterburners, use flares, etc. A system is specific to a hull, and can't be customized the way weapons and hull mods can – the goal is to make each ship have more uniqueness and flavor, as well as play differently.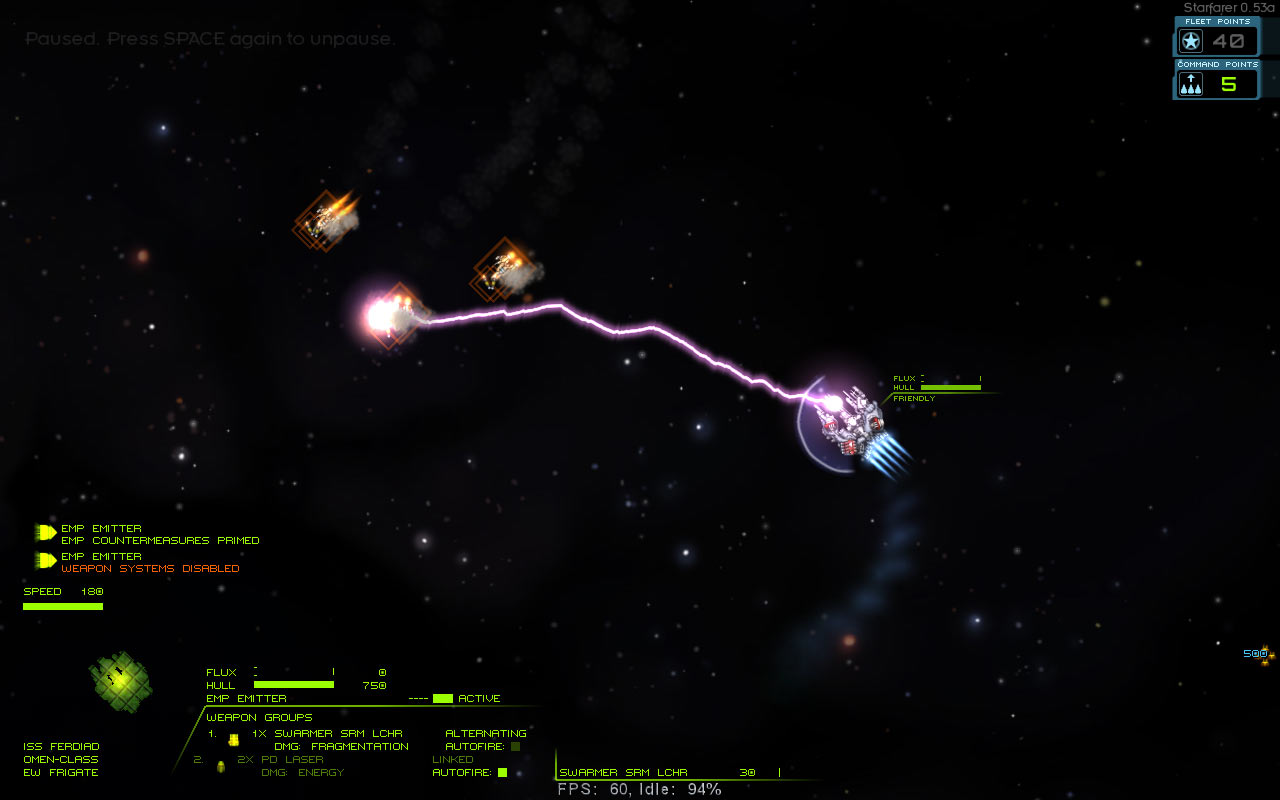 The EMP Emitter is one of the more esoteric ship systems
What makes a good system?
Using a ship system is an action you decide to take, and it's important for that decision to be interesting. What "interesting" means is subjective, but I think it's reasonable to say that if it's obvious (also subjective – what fun!) when to use a system, then the decision-making process is too simple. For example: if you had a system that instantly got rid of all of the ship's flux, and could be used on a short cooldown – but otherwise freely – you'd want to use it every time your flux is right around maxed out.
It becomes a task the player is doing that you could easily automate, and that's usually not a good sign (Incidentally: this means the more interesting the decision-making, the harder it is to write the AI for it. Argh!)
So, what could we do with a system like that to make the decision process more interesting?
The system could have a longer cooldown – if you use it now, you might not be able to use it a little later, when you really need it. I don't like long cooldowns, though. In practice, the player will use the ability much less often, waiting for the perfect moment – or holding it in reserve against a bad situation that, if they play well enough, might not happen at all. And really, if I'm going to spend time developing ship systems, I'd like them to see more use, not less.
The system could have a limited number of uses. Even if it's not so low as to require hoarding until the perfect moment, that's still not much better. We start off with it being formulaic (enough uses not to worry about running out – use at "obvious" moment) and progress to hoarding when the number of uses goes down. Going from one type of bad to another – but still, it's more interesting during the transition.
What about something completely different? Let's say that using the system disables your shields and makes your ship take extra damage during the next few seconds. Now we're talking! All of a sudden, you have to look at the tactical situation to see if using the system is a good idea – and, better yet, using it will influence your actions in the near future. You'll want to keep out of trouble, but at the same time, since you've got all this flux to burn on weapons, you want to engage any particularly vulnerable targets.
This system was purely hypothetical, but I think we can draw a reasonable generalization from examining it: Downsides to taking an action are more interesting than limitations on being able to take an action. (You could say that the downside of a cooldown is not being able to use the system for a time – technically, that's correct, but let's not go there. Before long, we'd start arguing about the meaning of "is".) The point here is that a downside opens up a new dimension of gameplay, where a limitation closes down an existing one. Unless the limitation is something that comes from within the gameplay ("you have to be behind someone to backstab") vs outside it ("backstab is on cooldown, sorry").
Does that mean that cooldowns, limited uses, and all such shouldn't be used? They're still useful balancing tools, and can meaningfully play into the decision-making process – but we shouldn't rely on them to make mechanics more interesting. It's ok to have a short cooldown to balance out a perfectly good skill that becomes game-breaking if it could be used every frame, for example. I'd be worried about abilities that rely on lengthy cooldowns to counterbalance their effectiveness, though.
Another aspect of a good ship system is that it's satisfying to use (once again, subjective). I think this comes down to lots of playtesting, tweaking, and some more playtesting. The impact the skill has in the game, the graphics, the sound effects – all of these play into it. Actually having unique visual and sound effects is critical – the player has taken the trouble to make a decision and press a button, after all, so they should see something happening on the screen. It's also important to be able to tell what enemy (and allied) ships are doing. I don't have much more to say about this, though it seemed worth mentioning because it's such an important aspect – but in the end,  it just takes time and iterations until it feels right.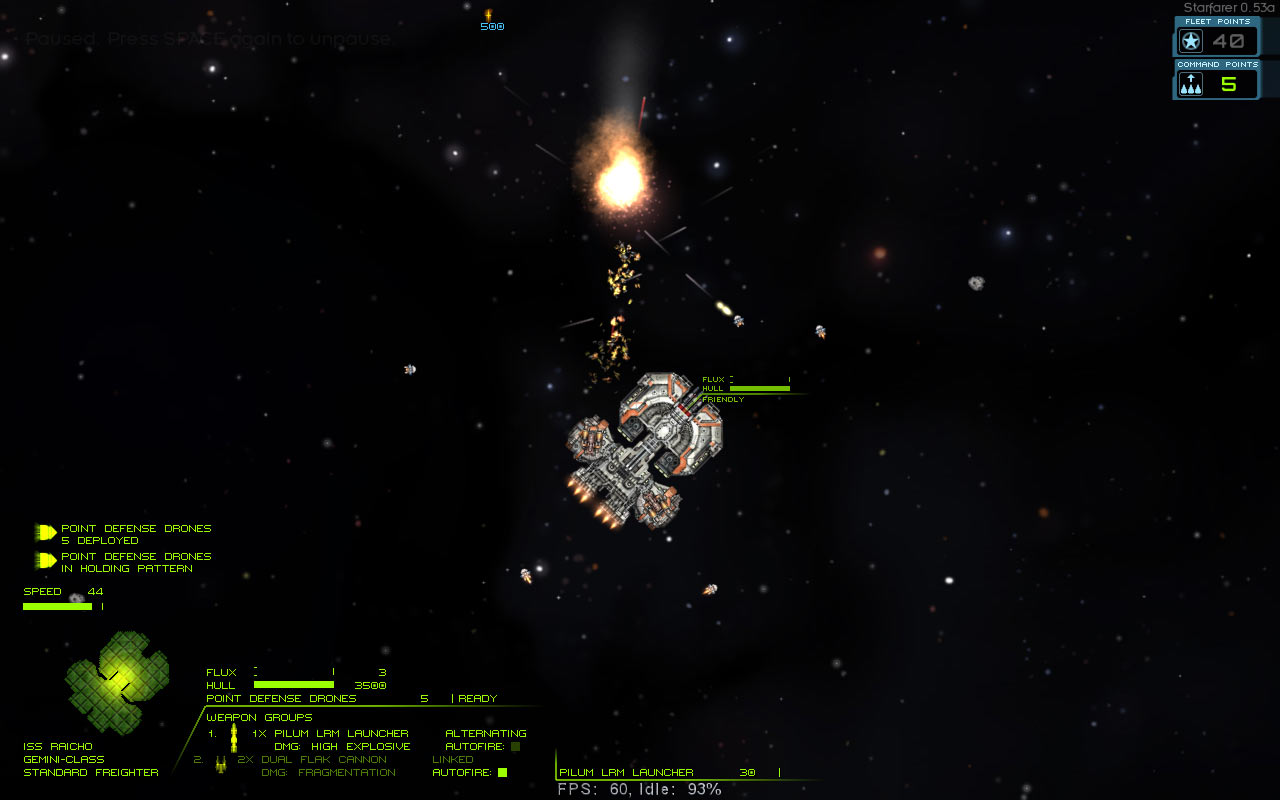 PD drones in orbit around the Gemini. Incoming debris was formerly incoming long-range missiles.
What ship gets what?
Each ship only gets one system, and they can't be customized by the player (which is the point of systems, after all – flavor/uniqueness over customization), so what system a ship gets is a important decision.
Do you add a system that shores up a weakness? Emphasizes a strength? Makes the ship more specialized in its role, or opens up new roles in which it can be used? Ultimately, all of these are valid ways to go, and there are a few overarching concerns that I think are more important.
First of all, how strong of a system should a given ship get? A flare launcher, while handy, isn't on the level of a teleporter in terms of tactical utility. So, that's something to always consider – adding (and subsequently, shuffling around) ship systems will be a useful tool for balancing ship hulls against each other.
Second, does the system fit a ship thematically? A good example of this are the battlecruisers – ships built around the concept of speed and firepower at the expense of defensive capabilities. A defensive system would be out of place here – while mobility and firepower enhancers contribute to the ship filling its intended role. Other ships don't have such strongly defined roles, and there's more leeway in selecting their systems.
Third, systems can be used to more strongly tie ships together. For example, the Enforcer, the Dominator, and the Onslaught are all low-tech ships, and share a visual style – but there are many other low-tech ships, too. These three all get the Burn Drive system, though – emphasizing that they share the same design philosophy in terms of their approach to battle ("damn the torpedoes, full speed ahead!").
A look at some systems
Now that I've spent all this time pontificating about how ship systems should and shouldn't work, let's take a look at some actual examples.
Burn Drive
This one increases the top speed of a ship – by a lot. It can't turn or use shields, though (downsides!). The cooldown is 10 seconds – nothing huge, but enough so that you can't zip around *all the time*, which would just be broken. The ships that get this system have high armor, lots of firepower, and thrive on slugging matches – so it's great for getting them nice and close to ships that would rather stay away.
But, it's not so simple as "too far? engage burn drive and close in". Since you can't turn, you have to line up a good vector – to end up in a strong position about 5 seconds from when you use it, when the drive finishes firing. That by itself can be a challenging task. You've also got to be careful about taking too much damage – since your shields are down, closing in directly on a ship with, say, Anti-matter Blasters can be very painful. Burn Drive has another quirk – if you collide with another ship that's the same size as yours, or bigger, you risk a full flameout of the engines – leaving your ship stranded. So, while it's great for getting close, you want to be careful about ramming another ship. To top it off, Burn Drive can be used to get around the map quickly.
Fittingly, the AI for it is sizeable to say the least.
All in all, I'm really happy with this one. The downsides were really critical in making it feel right – the initial version didn't have any, and while it was good for a few laughs (an Onslaught battleship chasing down frigates and other such nonsense), it was ultimately boring. Note that I didn't say overpowered, though it certainly was that too. You could make it balanced by turning down the speed boost – but without the downsides, it would still be boring. You'd just turn it on any time you need to get close to a target or get away, with the only limitation being the cooldown.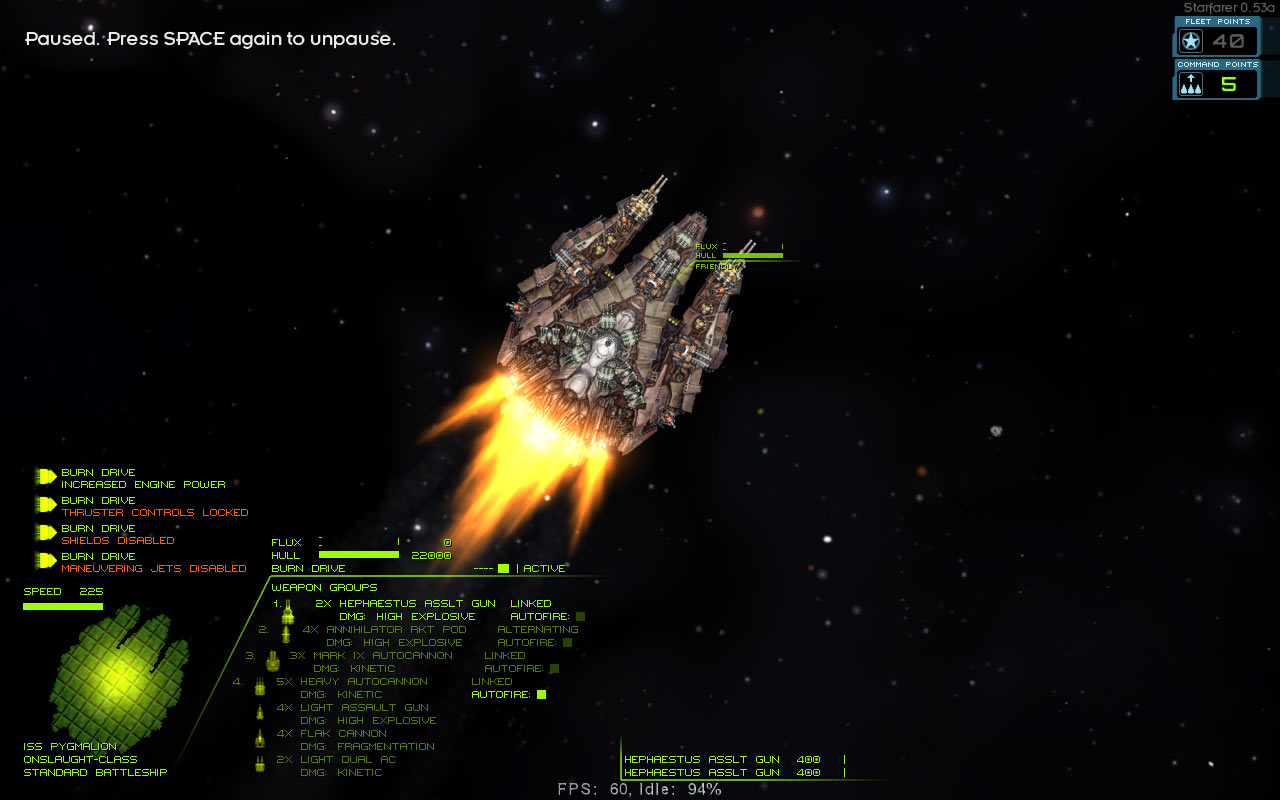 Getting in front of that is a really, really, really bad idea
Fast Missile Racks
And on the other end of the spectrum, in terms of complexity – this system reloads all missile weapons immediately  so they're ready for another volley. It could be used to fill space with more long range missiles, or to double the power of a missile or torpedo strike on a vulnerable enemy ship – fire one volley, activate the system, fire another volley.
And that's about all there is to it. The decision to use the system is straightforward – you have to assess whether a target is vulnerable, whether the missiles have a good chance to get to it, and whether you have the time to fire off both volleys.
According to everything I've written in the first couple of sections, that should make it an uninteresting system – and yet, it seems to play just fine. Why is that?
I think there's another aspect to this that the above doesn't talk about – the complexity of the decision should be in line with the magnitude of the system's effect. Or, at least, a fairly minor system shouldn't require complicated decision-making – if it did, it wouldn't be worth your time, with everything else going on that demands it. Fast Missile Racks give your ship a solid additional tactical capability – without being an undue burden on your time.
Overall, it's certainly a less involved system. This makes me wonder – are there reasonable downsides or trade-offs that could be added to it to make it more interesting? Something to be careful of is that it's already not an exceptionally powerful system – so it couldn't handle as many downsides as Burn Drive did. Perhaps a simple flux cost to using it might be in order – or, a boost in power combined with more severe downsides.
Or, perhaps, it's simply OK for some systems to be less exciting than others. You still have to get into a good position to use it well, it affects how you play a given ship, and it's not automatic whether you should use it or not – it's just not as game-changing as Burn Drive is for the Onslaught.
Over time, I'm going to revisit ship systems, tweak them as much as they need it, and probably move some around to different ships. I'm curious to see how my thoughts here hold up against the reality which will be uncovered by more playtesting, and ever-important player feedback. As always, I'd love to hear what you guys think!
Tags: active ability, burn drive, cooldown, decision, fast missile racks, ship systems
This entry was posted on Thursday, June 14th, 2012 at 9:28 pm and is filed under
Development
. You can follow any responses to this entry through the
RSS 2.0
feed. Both comments and pings are currently closed.