Given that New Year's is coming up, it's only appropriate to talk about how you acquire shiny new stuff in Starfarer. Oh, wait… Christmas is the "presents" holiday, New Year's is the "get drunk" one. Never mind! But just the same, that's what I want to talk about. Shinies, not getting drunk.
… now that my feeble attempts at humor are over and done with, let's continue.
Battles are a key way to progress through the game. They're not the only way – you'll be able to build up an economic power base, for example – but that's not what this post is about. Battles offer an opportunity to get stuff for free, even if you don't fancy yourself a pirate, but something slightly more honorable-sounding. The flip side is you can easily lose some hard-earned assets, too – ships, crews, even cargo if the outcome is bad enough.
What I'd like to do is outline the mechanics as they stand, talk a bit about the motivations for doing it this way, and sprinkle in a couple of screenshots. For the sake of this discussion, let's assume the player won the battle. If they lost, things happen slightly differently, but it's more or less a mirror image.
Casualties, Boarding, and Repairs
If you've played the combat portion of the game, you already know that instead of simply blowing up when hull integrity reaches 0, ships become floating, disabled hulks. There's a small chance for each of these to be repaired after battle (most likely, player skills will allow you to raise that chance).
So a friendly ship can emerge from battle in the following ways:
Completely unscathed or somewhat damaged
Disabled and subsequently repaired, with a minimal hull integrity and heavily damaged armor (non-fighters only)
Utterly destroyed (fighters and ships whose hulks are shot repeatedly until they blow up – unlikely for anything bigger than frigates)
Disabled and beyond repair, and subsequently scrapped for any supplies
The options for enemy ships are slightly different. Retreating ships have a chance to be captured after battle, and the player has a choice between boarding and scrapping these. Disabled ships that can potentially be repaired can also be boarded or scrapped, while ones beyond repair are scrapped automatically.
Also, if a ship takes hull (not armor) damage, then there's a good chance that some crew will be killed, in rough proportion to how much damage the ship actually took. It's possible to win a battle and end up losing enough crew that you can't meet the skeleton crew requirements to deploy most of your ships – so it's a good idea to carry enough extra crew for these kinds of emergencies. Outside of combat, it's assumed that automated systems let you get by well enough to navigate the ships, so even extensive crew losses won't stop you from being able to move around the Sector.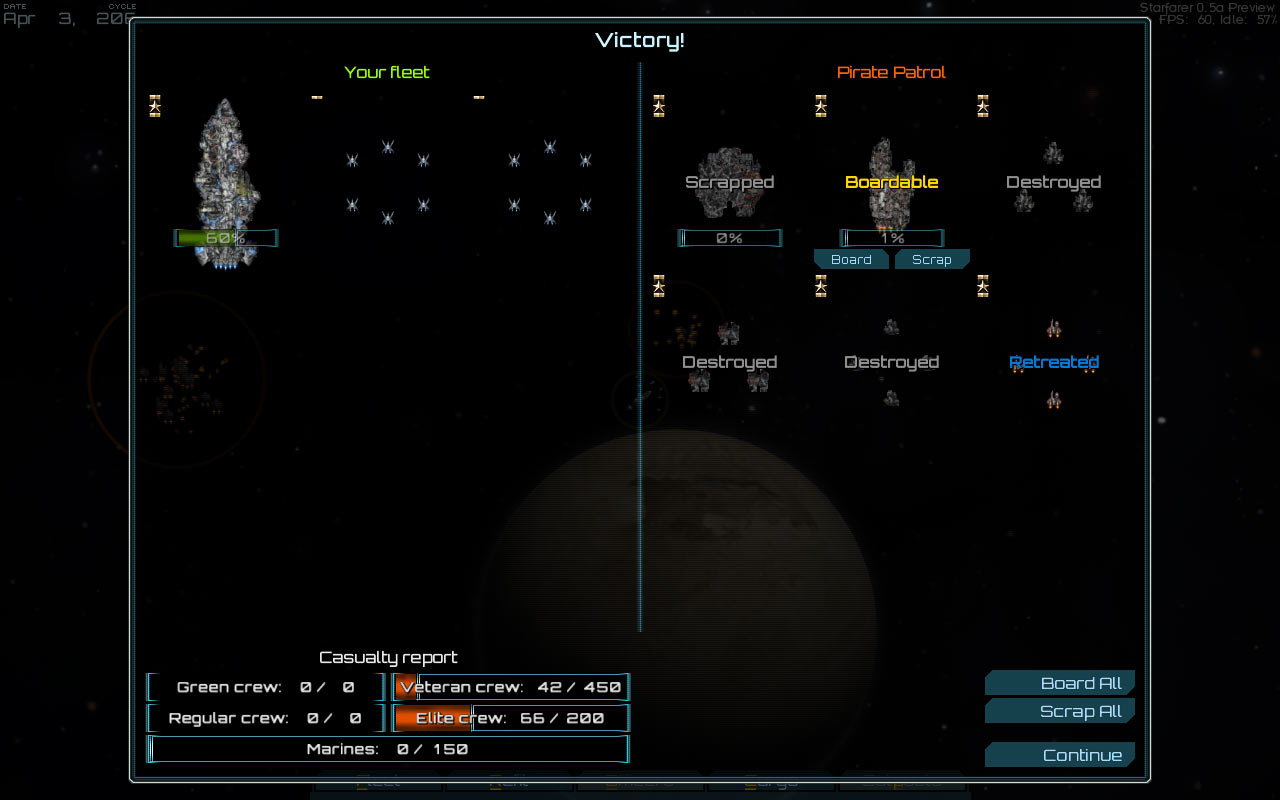 The Odyssey has taken some damage, but the pirate fleet has been eliminated as a combat threat
Boarding captured ships is relatively safe – the commanders of these have surrendered, and the crews aren't putting up any resistance. Therefore, the risks to your marines are minimal, and the ships can even be captured by your crew. On the other hand, personnel boarding disabled ships face many dangers, from malfunctioning systems to pockets of resistance by surviving enemy crew. Only marines can even attempt this kind of boarding action, and will often take losses.
To recap, the player gets to make a "board or scrap" choice for either captured or repairable enemy ships during this initial post-combat phase.
Looting
The second phase is all about transferring any recovered cargo to your fleet's holds. The amount of stuff you get depends on the outcome of the initial phase. Boarding ships produces more loot than scrapping them, and of course any ships that managed to retreat get away with their cargo intact.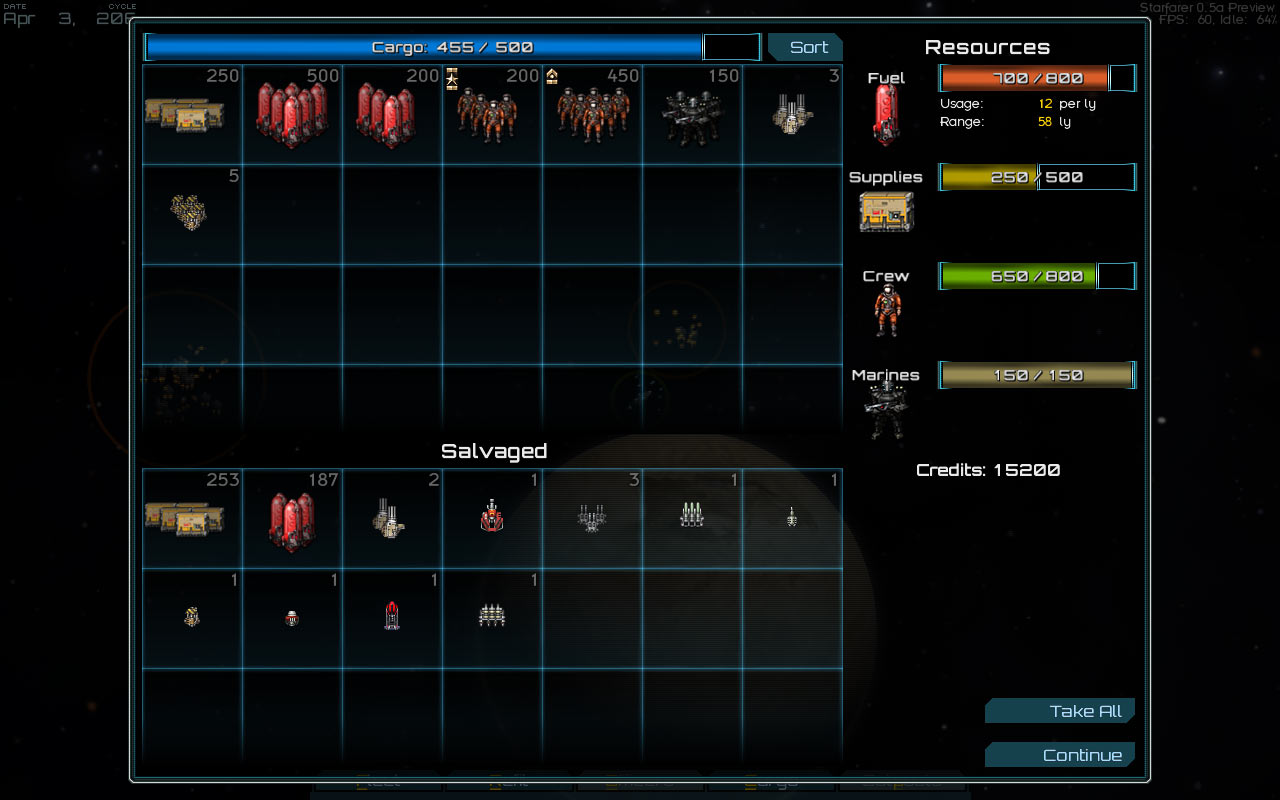 Supplies, fuel, and weapons looted from what remains of the pirate fleet
The top half shows your current cargo, crew, fuel, and whatever else falls under the loose definition of "cargo". The bottom half shows what's been salvaged after the battle. In particular, the weapons come both from the cargo of the enemy fleet and from what was actually mounted on the enemy ships.
Motivations
I had two main goals when approaching the design of both these mechanics and the corresponding UI: 1) make it hassle-free and 2) offer the player some choices. These two are at odds with one another (figures, doesn't it?), so as usual the process became one of looking for a sweet spot between the two extremes of "no choice" and "way too much of it".
A simplifying assumption I made is that the player shouldn't be asked to say whether they want to try to repair a ship or not – it's just attempted automatically. The key point is that there's no cost to making the "repair or scrap" choice, so there's no need to bother the player with it. If the "repair" choice had a cost (say, some supplies to attempt it), then it would need player confirmation.
The "board or scrap" choice doesn't come up all the time, but it does have a cost – the player is likely to lose marines every time they do it, so it has to be an explicit call on their part.
How often the after-combat screen comes up is actually an important question, and one I don't have a good answer to at the moment (and it depends on playstyle, to boot). If it's not too often, then it's ok to have more choices – and have it be a little more work. If it's more frequent, then it needs to be as streamlined as possible. I'm going with the streamlined approach for now, but will be keeping an eye on how it plays out – and whether it provides enough flexibility.
Tags: battle, board, combat, disable, repair, salvage, spaceship
This entry was posted on Saturday, December 31st, 2011 at 6:13 pm and is filed under
Development
. You can follow any responses to this entry through the
RSS 2.0
feed. Both comments and pings are currently closed.